Open Contact Form
Please Contact Us
SAP UI5 Training Bangalore
SAP UI5 is a User Interface (UI) technology, which helps in building consistent user experience across different devices including desktops, tablets and smartphones. The UI controls with this technology adapt in an automatic manner as per the capabilities of relevant devices. Needless to say, it is available for creating web-based SAP applications. As the world is bound with internet, enterprises are more inclined to web-based SAP systems and SAP UI5 is essential for rich and flexible user interface. Expertise in SAP UI5 is therefore in great need and you can take rigorous SAP UI5 training in bangalore at Peopleclick Techno Solutions to make your own space. The career scope is wider for skilled SAP UI professionals with numerous highly paid job opportunities such as SAP UI5 Developer, SAP UI5 Consultant, SAP Mobility Consultant and more. Being the leading SAP UI5 training institute in bangalore, we give focus to both theoretical and practical aspects and prep our students to have exceptional skills in SAP UI.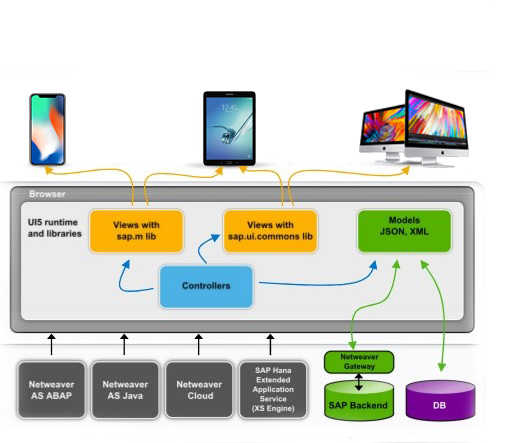 SAP UI5 Training Bangalore
If it is going to define SAP UI5 technically, we can say it is SAP's library framework that involves a set of standards as well as extension controls. It works based on Model View Controller (MVC) concept which separates data model management, UI design and application logic. This smoothens UI development apart from the modification of different parts. In our SAP UI5 course in bangalore, you can learn all the technical concepts related to SAP UI5. Now, we will see the major features of this technology:
Based on open standards (Javascript, HTML 5 and CSS)
Extensibility principles on coding and application stage
Capability to create complex UI patterns as well as predefined layouts
Keyboard interaction guide
Accessibility functions
The features support by this technology vary according to the version of the browser and the vendor. The theoretical classes with our SAP UI course covers this area in detail. With all the amazing possibilities, businesses can benefit from SAP UI in the following ways:
Enhanced user adaption
Reduced manual errors
With perfect API, it is easy to use without much effort
In short, SAP UI gives high performance SAP system and thereby increases the productivity of the organization. Through real-time project analysis with our SAP UI training, you will get a bigger picture of how this technology solves business challenges.
Full-Fledged Support From Us
Peopleclick Techno Solutions is one among the best institutes that provide SAPUI5 Training in Bangalore. We don't simply teach UI5, however we are going to bring out outstanding SAP UI5 professionals by training them on Development, Administration and Application style. Our faculties aren't simply technical developers or trainers, they are industry specialists and consultants. The UI5 course content is consistent with the industry standards to impart smart real time knowledge. The other features involve in our SAP UI training are:
Practical Course Material and E-books
Live case studies
24 x 7 Online access to consultants for doubts and clarifications.
Assignments after every classes.
Video Recordings of lectures are provided.
On completing our SAP UI training in bangalore, there is an opportunity of on-site job assistance for 6 months. As a committed SAP training institute in bangalore, we also provide 100% placement assistance to our students and make them confident to grab hot opportunities quickly. This involves guidance in resume preparation and mock interviews. To know more about our SAP UI course in bangalore, call us at 91- +91-9164161200 or drop a mail at info@people-click.com.